EXTEND YOURSELF ONLINE SKYPE LESSONS

I now offer Skype Online Lessons, delivered live from Las Vegas. Classes are private and semi-private only and are for all levels. Work on your strength & conditioning, learn a routine, perfect specific moves, clean up your technique, or discover a new combination! Email me your preference and find a time that works for you! Check your time zone here.
Payments
* Payments are accepted via Paypal (contact us for details).
How To Join The Class On The Day
* Log in to Skype
* Make sure you've added me as a friend (contact me for details)
* Let's Pole!
Contact me for more details or to book in.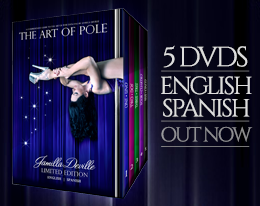 The Art of Pole DVDs
Don't forget, if you can't make it to a class, you can always order your own set of The Art of Pole DVDs. Available all over the world, and now also available in dual language (English and Spanish), The Art of Pole takes you from the very basics of pole dancing and instructs you step by step in the finer points of technique. Every volume includes a thorough warm up, cool down, conditioning and stretching section, as well as live performances from myself (with a cameo from the goddess of pole herself, Fawnia Dietrich). You can find the series here!