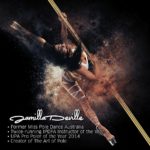 Although I LOVE my Vegas life, and especially my classes at Shine Fitness, 2017 is also bringing me some very exciting touring, both domestic and international. Here are a few of my upcoming adventures:
March 18: Nicki Dark Fitness, Memphis, TN – 1pm Dance It Out; 2.15pm Extend Yourself; 2.50pm Signature Moves
April 2: LAPD (London Academy of Pole Dance)
April 3: Pole Fitness Malta
April 7-9: Pole Fitness Pantera, Slovenia
With thanks to my management, Poles On Tour.
Contact the studios above for all bookings and enquiries, or Poles On Tour to book me for your studio. I can't wait to meet pole dancers from all of these places and more!